Laser Level Ice System
Simple to use - Let the operator focus on driving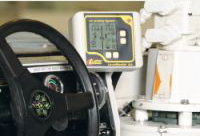 The Level-Ice Laser Leveling System will automatically control the cutting blade of the conditioner to achieve an accurate, level ice surface. The system can be installed on all ice resurfacing machines.
Level-Ice literally takes all the guess work out of producing a perfectly level sheet of ice. The laser controlled ice leveling system provides an accurate ice thickness to within 1/64" of the desired setting. Using the most advanced receiver technology, the system controls the cutting blade of the conditioner to give your ice a perfectly level surface after every flood.
Saves Money
Industry standards recommend a rink should carry 1"-1.25" of ice. For every half inch of ice over this, a rink is using 7-10% extra energy to maintain the ice. With the Level-Ice system, you are guaranteed a uniform and consistant ice depth at the level you want without having to dedicate "ice maintenance time" to bring your rink back to the desired thickness.

Financing is Available
For rinks that routinely carry excess ice, it is possible to save more in electricity per month than the monthly payments.