Replacement Parts
J&C has an extensive parts inventory for quick delivery of replacement parts for all models of Zamboni Ice Resurfacers.
To request a parts quote, please contact us at 973-584-0071, fax us at 973-584-6948 or email info@jandcice.com .
NEW - Zamboni now has the Model 500, 552, 545, 546 and Model 560AC parts lists and operating instructions available in pdf format. Contact us today to order a CD.
Recommended Spare Parts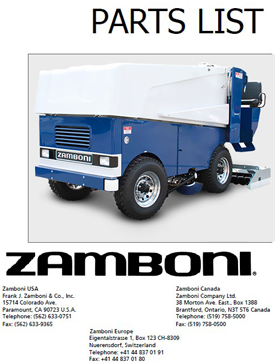 J&C recommends a rink keep the following spare parts on the shelf for quick repairs
Towel & Towel Bolts (17 for most machines)
Blade Bolts (10 for most machines)
Board Brush
WW Pump Impeller
Squeegee
Air Filter
Engine Oil Filter
Spark Plugs (Model HDB, 500 and 540)
Ignition wires (Model HDB, 500 and 540)
Cap (Model HDB, 500 and 540)
Rotor (Model HDB, 500 and 540)
Horizontal Auger Chain
Wash Water Belt
Horizontal and Vertical Auger Bearings
IMW/WW Ball valve
Snow Breaker Spring
Lockoff/Converter rebuild kit (LP machines only)